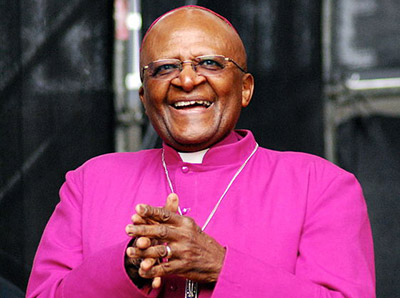 The organization The Gay Flag of South Africa (GFSA) has called on The Elders to speak out against Nigeria's appalling new anti-gay law, which was surreptitiously signed into law by Nigerian President Goodluck Jonathan last week.
The Elders is an independent group of global leaders, founded in 2007 by Nelson Mandela, who work together for peace and human rights. Archbishop Desmond Tutu served for six years as Chair before stepping down in May 2013, and remains an Honorary Elder.
Current Elders include former UN Secretary-General and Nobel Peace Laureate Kofi Annan; former President of the United States and Nobel Peace Laureate Jimmy Carter, women's and children's rights advocate Graça Machel; and Mary Robinson, the first woman President of Ireland and former UN High Commissioner for Human Rights.
In a statement issued on Tuesday, GFSA's Eugene Brockman said that the draconian Nigerian law "will forever destroy the lives, freedom, dignity and job prospects of those LGBTI citizens who will be persecuted under this law".
Brockman added:
That the law "will also tear families and communities apart as this legislation places pressure on parents, brothers, sisters, uncles and friends to turn in people they care for in fear of themselves being put under a five year jail sentence for failing to report an LGBTI individual".
Brockman warned that with the flaring up of clashes between Islamic and Christian communities in Nigeria, "this spill on effect of vigilantism could also see 'mob justice' being focused on LGBTI individuals who are already marginalised…"
He implored The Elders "to remember the example of their founding member and father of the South African Nation; Nelson Rohlihlahla Mandela".
Brockman said: "We ask that you publicly and visibly speak out to condemn this gross injustice and remind African leaders of Nelson Mandela's example before homophobic persecution and, heaven forbid, genocide become entrenched on the African continent."
Of all The Elders, Tutu has to-date been the most vocal on the issue of LGBT equality and has publicly criticized African states for targeting people on the basis of sexual orientation and gender identity.
Nigeria's new anti-gay legislation, revealed this week to have secretly been signed by President Goodluck Jonathan, will imprison anyone in a same-sex relationship or same-sex couples who attempt to marry for 14 years. It will also jail anyone who witnesses, solemnises or aids a same-sex marriage for 10 years. Any public display of same-sex affection will lead to a prison term of 10 years.
The bill will also jail anyone who supports or operates gay clubs, societies and organizations, processions or meetings for 10 years and people who do not report suspected homosexuals to the authorities could be jailed for up to five years.
The Gay Flag nonprofit organization has used its flag, which has become a common sight at Pride events around South Africa, to front a number of LGBT rights campaigns over the last three years.
Original report at Mamba Online
Shock Amongst Gays in Nigeria as President signs Jail-The-Gays law
A person who … indirectly makes public show of same sex amorous relationship … is liable on conviction to a term of 10 years imprisonment..By Cathy Kristofferson, January 13, 2014 http://oblogdeeoblogda.me/2014/01/13/shock-amongst-gays-in-nigeria-as-president-signs-jail-the-gays-law/
By Melanie Nathan, January 13, 2014.
Today we heard in breaking news that Nigeria's President Goodluck Jonathan has surreptitiously signed the so-called Same Sex Prohibition Bill into law. Reports are that Jonathan actually signed the Bill, better known as the "Jail-All-The-Gays" Bill, quietly last week. News of it's signing has only now been leaked. The LGBT community around the World will not tolerate laws that criminalize sexuality and will vehemently protest countries which institute such laws, which serve as government sanctioned mechanisms for persecution.
READ THE 10 ACTIONS – READ MORE http://oblogdeeoblogda.me/2014/01/13/10-urgent-actions-you-can-take-against-anti-gay-nigeria/